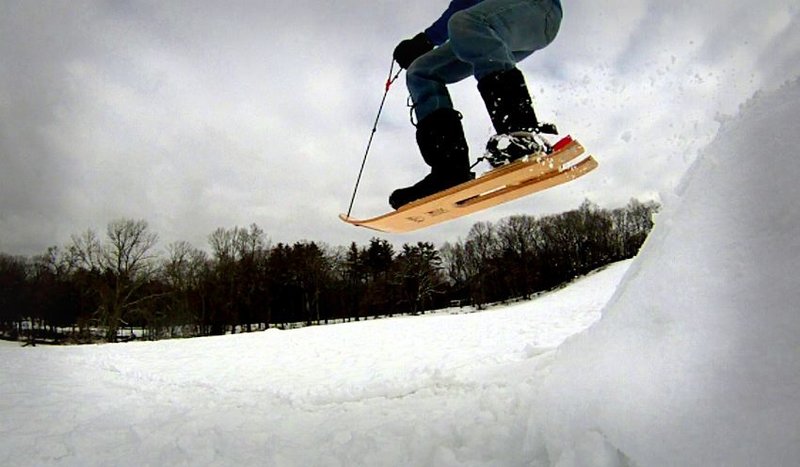 Back in the day…
When I was in high school, my brothers and I snurfed the woods outside of

Boston. So did a lot of people all over the country, as 800,000 or so units of the original Snurfer were sold. It was just so easy to grab your board after school and head out into the snow for a couple of hours. People started modifying their boards; I added a raised platform so my boots wouldn't dig into the snow (the Snurfer was only 6 inches wide) and made binding straps from bicycle inner tubes. I wasn't the only one tinkering: guys like Tom Sims, Chuck Barfoot and Jake Burton were at it too...but way ahead of me...pushing forward with longer, wider boards with more features. Entrepreneurs changed snurfing into snowboarding and moved it to the resorts. A great new sport was born...and fortunes made...but in the process the original inexpensive, grab-and-go s

nurfing right outside your home was lost.
Inception
The idea for PHNX Boards came back in 2010 when I wanted to take advantage of the wooded hills in the back of our house. My kids had never heard of a snurfer, but I recalled how inexpensive and fun they were to use. With snurfers long gone as a product, I would have to buy an expensive, cumbersome snowboard set-up for each kid (and myself), or a flimsy throwaway "starter" snowboard. So, I started looking for used snurfers on eBay and realized there were a lot of people doing the same thing! It occurred to me that the time was right for a retro-volution!
So, here we go!
My goal at PHNX Boards was not merely to copy the original Snurfer (anyone could do that) but to make it better while retaining its essence. Snurfers don't really need steel edges, because off-resort conditions are less likely to be hard packed snow and ice, and adding edges adds manufacturing complexity and cost. However, having a binding would significantly help control a snurfer and allow the rider to stay on during jumps, and having a brake to keep the board from hitting other people or trees would be safer. So I set out to create a binding that wasn't really a binding...something that would hold you onto the board, but not chain you to the board like snowboard bindings. I tested all sorts of crazy ideas, from magnets to clamps to velcro to straps.

I tinkered and tinkered over two winters until m

y "eureka moment" when I realized the snurfer control rope could be active instead of passive. The result is the patented Rip-Cord Binding/Brake System(tm), an amazingly simple solution that retains the easy step-on, step-off riding of a snurfer, but with greater control and safety. A system that works with any winter boot, any size foot, and includes the Slide-2-Switch feature that accommodates regular or goofy riders, and a spring-loaded safety brake that stops the board from flying off and hitting someone if you fall. The PHNX Board is a snurfer for sure...but a snurfer with more.
Buy a PHNX Board and Join the Retrovolution!

Steve Geiger, PHounde

r (with Hugo, our German shorthaired Pointer, ...and PHrosty the snowman!)